Whether you are a novice to BETT or an experienced professional, it's always worth having a plan of action for when you attend. The sheer size of the show and variety of demonstrations, talks and events taking place is astonishing and it is easy to get side-tracked. That's why we have adopted a broader approach this year. You now have access not only to demonstrations of our systems, but also the opportunity to speak with our MIS Specialists on what requirements you have for your school, how well your current systems meet those requirements and how small improvements can make better use of your data.
So, what are we offering at BETT?
Our clients are at the forefront of what we do. Customer service, support and aftercare that exceed expectations are values that we always carry out as standard and as a result, we are offering free, one hour training sessions to all of our clients attending BETT. Clients can choose any topic or area of SchoolBase that they would like training or advice on, at any level of understanding. This has proved extremely popular, with many schools also asking to use the opportunity to review how they use the system and gain best practice knowledge. It's our way of saying thank you to our clients and their opportunity to gain knowledge on topics that are important to them. A perfect combination!
We still have a few slots available so please email marketing@furlongsolutions.com for more information.
What can SchoolBase offer you?
SchoolBase is a leading web-based school MIS that takes care of all aspects of school data management, regardless of department or area. The system is one centralised database, discarding the need for multiple data entry and enabling all members of staff, from senior leaders to teachers, admin and IT staff, to access and alter information quickly and effectively without the need for multiple systems and login details. You choose how much of the system you use, how you use it and how it affects data management for your job role.
Why not ask us about…
We recognise that research and development must be driven by those who use the system. Listening to their needs, concerns and observations enables our products to evolve in the most efficient direction. Our new Analytics Gadget brings data to life in a colourful visual format, accessible from your Dashboard as soon as you login to SchoolBase. You choose what data you see, in what format and how it is arranged on your Dashboard so that you can spot trends quickly and report with greater confidence.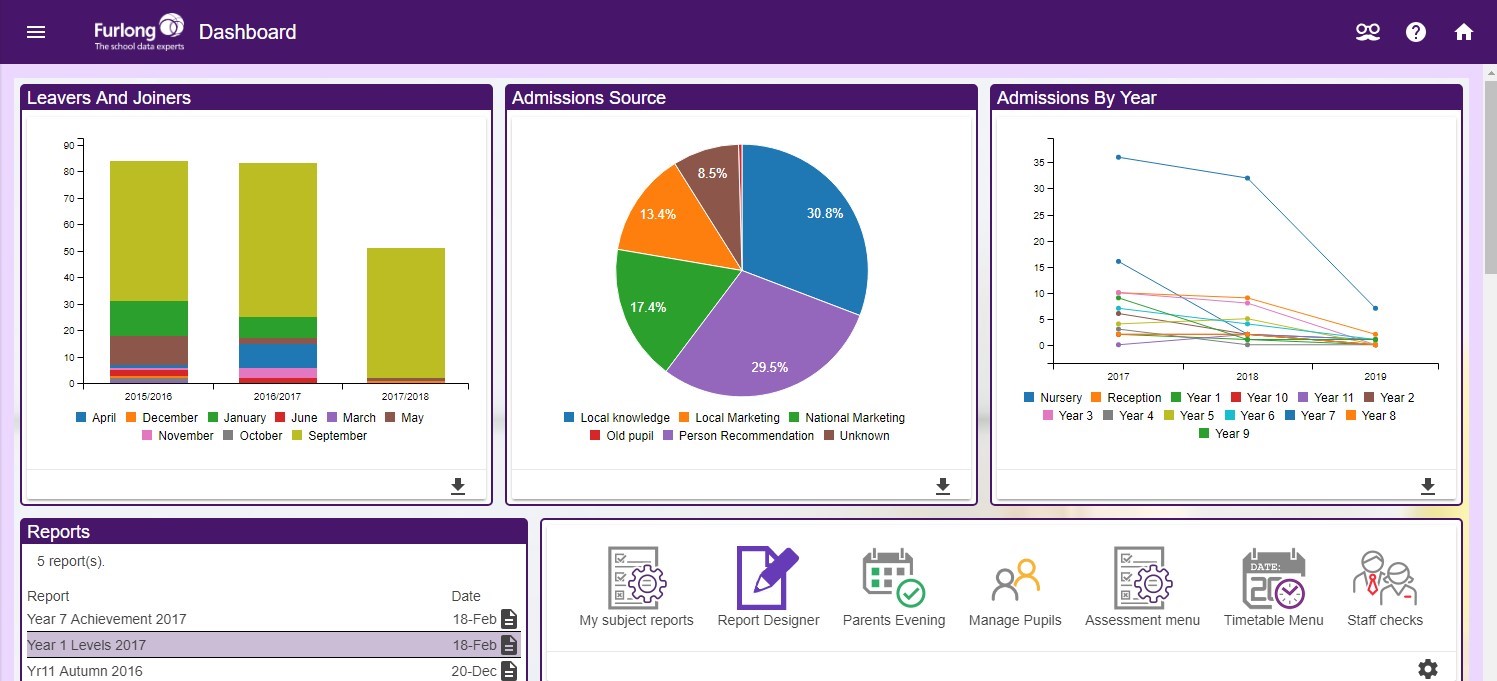 Interested? Come and see us!

For more information, why not contact us on +44(0)1264 354 111, enquiries@furlongsolutions.com or via Freshdesk.